FREQUENTLY ASKED
QUESTIONS AND ANSWERS
Updated 06.24.2014
What time does the race start?

7:00 AM

Is the course certified?

Yes -- USATF Certification #MI 130825 SH Effective until December 31, 2023. Endorsed by the Michigan Governorís Council on Physical Fitness, Health, and Sports.

T-shirts: Cotton or polyester?

Answer Updated 06.24.2014

The 2015 Event T-shirts will be 50% Cotton and 50% Polyester.

Will there be a finisherís medal and/or awards?

Each Finisher will receive a medal. A trophy will be given to the fastest man and woman.

Is there a Half-Marathon option in this event?

No, for the purposes of this event, our community is focussing on developing a strong Marathon Event. But we do recommend the Whitefish Point Run for the Light event held each year in October. In 2014 they added a half-marathon feature. For more details be sure to visit this link at the Great Lakes Shipwreck Museum

What if I register and cannot make it to the race can I get a refund or transfer my registration to someone else?

We do understand that injuries or travel plans can be an obstacle. Our policy, though, is no refunds or transfers of registrations. If you can let us know that you will not be present, that aids in the check in process.

Aid stations: How often, and what will be offered?

| | |
| --- | --- |
| MM2 | Water |
| MM 5 | Water |
| MM 7.4 | Water |
| MM 10.4 | Water, Gatorade, & Carb Snack |
| MM 13.4 | Water, Gatorade, & Carb Snack |
| MM 16.4 | Water, Gatorade, & Carb Snack |
| MM 19.9 | Water, Gatorade, & Carb Snack |
| MM 22.6 | Water, Gatorade |
| MM 24.6 | Water, Gatorade |
| Finish Line | Water, Gatorade, Bananas & Bagels |

What toilet facilities will be available?

Starting Line | Outhouses at Sawmill Creek Park
MM 5.5 | Outhouses at Andrus Lake Picnic Area
(along the course)
MM 10.4 | One port-a-potty along the course
MM 13.4 | Bathroom facilities at Whitefish Point
MM 24.6 | Outhouses at Sawmill Creek Park
Finish Line | Whitefish Township Community Center

How much of the course is shaded?

There are a couple of stretches along the Lake where there is no shade from the sun, the sun being in the eastern sky in the morning. But I would say that most of the course is shaded, or partially shaded. The last couple of miles (along M-123) will be in the direction of where the late morning sun would likely be in your face. Sun screen would be a good idea. In early June, morning temperatures will be a bit cooler, but will likely warm up by noon - and the course will be less shaded at mid-day with the sun being higher in the sky.

What is the average daily temperature in that area in mid June?

The average daily temperature in mid June for Paradise, Michigan is 70 degrees. Last year the maximum temperature was 77 degrees (We had an unusually warm spring.) and the minimum temperature was 60 degrees. In 2009 the high was 73 and the low was 50.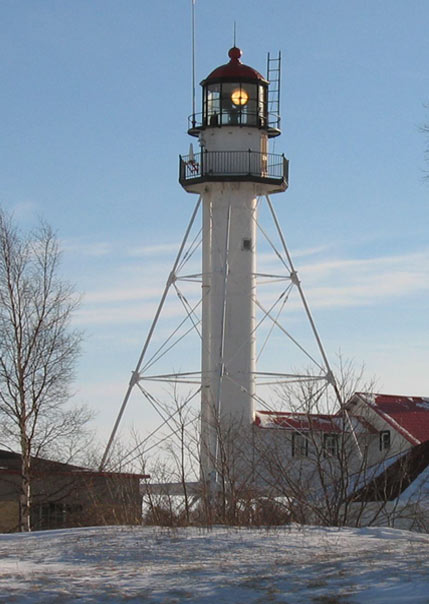 Many Thanks to Our 2014 Event Sponsors
Is there usually a cool breeze from the lake?

Breeze should help, but wind/breeze is unpredictable and can move with or against you. Historically wind speeds average 10 miles per hour at that time of year with maximum wind speeds of 17mph. Most of the course has trees between you and the lake which blocks some of the winds coming from the lake. It has been a wet spring and whatever breeze is present may be enough to keep the flies and mosquitoes away but you might consider using an insect repellant/or spray.

Are there spots without cell phone reception?

There are spots where cell phone reception will probably not work. There is a tower in Paradise - close to both the start and finish, but further north I would expect loss of signal.

What is the running surface?

The course is mostly paved. The course is along Whitefish Point Road - which is paved with bike/foot path along the edge. The 1.2 mile stretch down Vermilion Road - and back - is partially paved with pot-holes and part gravel. The leg on Superior Drive is about 1.3 miles and it is gravel. The runners will run on the bike/foot path portion of the road. Runners will be on the left facing any on-coming automobile traffic, and there is a painted stripe on the edge separating the car traffic from the foot traffic.