GETTING HERE!
We are located in Michigan's Eastern Upper Peninsula, 58 miles north of the Mackinac Bridge on Route M-123.

By Flight The closest commercial airport -- served by Delta -- is Chippewa County Airport (1 hour from Paradise). From there, join Interstate 75 and continue north to M-28. Exit on M-28 and head west to M-123. Turn right on M-123 and continue to Paradise. Other regional airports are Pellston (2 hour drive and a bridge commute), Marquette (a 3 hour drive) and Escanaba (about a 4 hour drive).

By Car Coming North over the Bridge on Interstate 75, continue for 8 miles. Exit on to M-123 (toward Newberry). Stay on M-123 - including a right turn in Trout Lake -- until reaching Paradise.

From the Western Upper Peninsula/Wisconsin/Minnesota Follow Highways U.S. 2, U.S. 41, then M-28 until reaching M-123 (near Newberry). Turn left on M-123 and continue to Paradise.

From Eastern Wisconsin/Illinois Join U.S. 41 (near Green Bay) heading North, then join M-35 at Menominee and continue north along the Lake Michigan shore. Near Rapid River, join U.S. 2 heading East. Continue East to M-117. Turn left and continue to M-28. Right on M-28, East to M-123 (near Newberry). Continue to Paradise.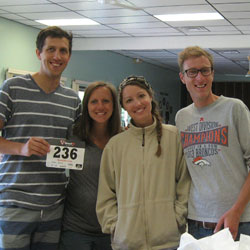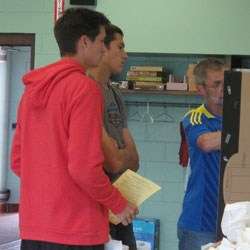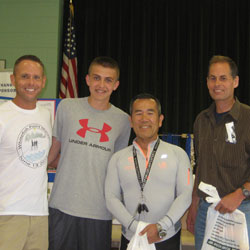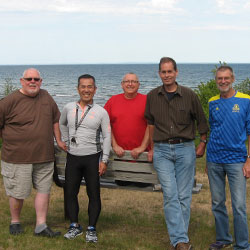 FREQUENTLY ASKED QUESTIONS AND ANSWERS
Updated 01.03.2021
Aid stations: How often, and what will be offered?

Mile 3.5 Water
Mile 6.5/7.4 Water
Mile 10.4 Water, Powerade
Mile 13.4 Water, Powerade
Mile 16.4 Water, Powerade
Mile 19.9 Water, Powerade
Mile 22.6 Water, Powerade
Mile 24.6 Water
Finish Line Water, Snacks


Is there a time cutoff?

There is no time cutoff for the marathon, however, the aid stations will close down based on a 6 hour marathon (14 minute per mile pace). Any participant that is unable to maintain that pace is advised to carry their own hydration and will be supported by course monitors.

Is there a pasta dinner?

No, however, there are several restaurant choices in the area.

Bikes, dogs, etc.?

For safety reasons, bikes, dogs, strollers, roller blades, unregistered runners, etc. are not permitted on the course.

T-shirts?

T-shirts are short-sleeve, unisex.

Is there a Half-Marathon option in this event?

No, our community is focusing on developing a strong marathon event.

What if I register and cannot make it to the race? Can I get a refund or transfer my registration to someone else?

We do understand that injuries or travel plans can be an obstacle. In our efforts to keep registration fees low, our policy is no refunds or transfers of registrations. If you can let us know that you will not be present, that aids in the check in process.

What toilet facilities will be available?

Starting Line | Whitefish Township Community Center
Mile 1.5 | Outhouses at Sawmill Creek Park
Mile 6.9 | Outhouses at Andrus Lake Picnic Area (along the course)
Mile 10.4 | Port-a-potty along the course
Mile 13.4 | Bathroom facilities at Whitefish Point
Mile 16.5 | Port-a-potty along course
Mile 24.6 | Outhouses at Sawmill Creek Park
Finish Line | Whitefish Township Community Center

How much of the course is shaded?

There are a couple of stretches along the Lake where there is no shade from the sun, the sun being in the eastern sky in the morning. But most of the course is shaded, or partially shaded. The last couple of miles (along M-123) will be in the direction of where the late morning sun would likely be in your face. Sun screen would be a good idea. In early June, morning temperatures will be a bit cooler, but will likely warm up by noon - and the course will be less shaded at mid-day with the sun being higher in the sky.

What is the average daily temperature in that area in mid June?

The average daily temperature in mid June for Paradise, Michigan is 70 degrees. Of course, it is usually cooler at the start with warming during the day and the weather in the Upper Peninsula varies widely from day to day and year to year.

Is there usually a cool breeze from the lake?

Wind/breeze is unpredictable. Historically wind speeds average 10 miles per hour at this time of year. Most of the course is wooded between the course and the lake and blocks the winds coming from the lake. If a breeze is present, it may help keep the flies and mosquitoes at bay but you might consider using an insect repellant/or spray.

Are there spots without cell phone reception?

There are spots where cell phone reception will probably not work. There is a tower in Paradise - close to both the start and finish, but further north expect loss of signal. Signal is also dependent on the phone service provider.

What is the running surface?

The majority of the course is along Whitefish Point Road which is paved with bike/foot path along both sides. Runners will run on the bike/foot path portion of the road on the LEFT facing traffic, between the painted stripe separating the vehicle traffic from the foot traffic. The half mile out and back on Vermilion Road is gravel and run on the LEFT side facing traffic. The section on North Superior Drive of about 1.3 miles is gravel and is the only section of the course where runners have unrestricted use of the road.

What is the course profile like and do you have an elevation chart?

We thought of just showing a picture of a pancake (a blueberry pancake, naturally [Note: Paradise is regarded as the Wild Blueberry Capital of Michigan.]), but that wouldn't be entirely accurate. There are no hills on the course, only gradual up and down grades. The highest elevation is 643 feet and the lowest is 604 feet (39 feet difference), so that does't allow for a lot of elevation changes, basically a flat course. We currently do not have an elevation chart, but we are looking into that.