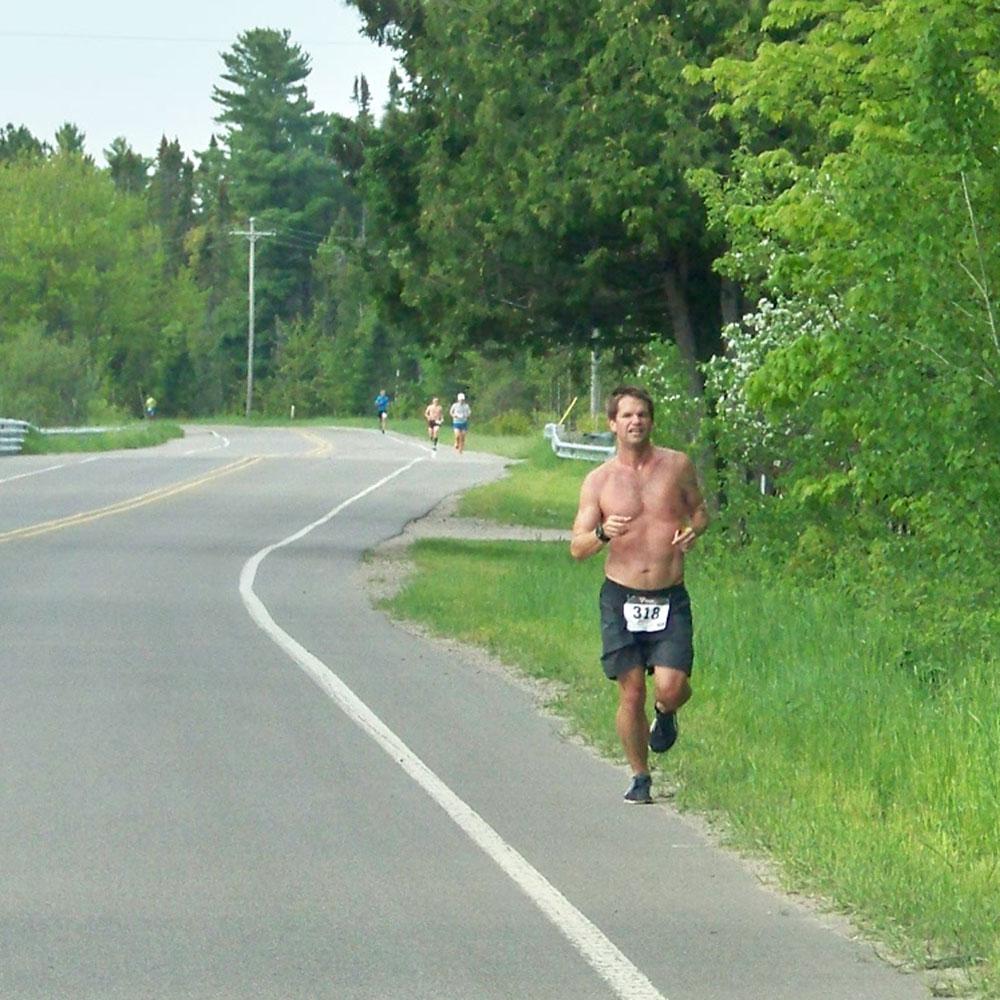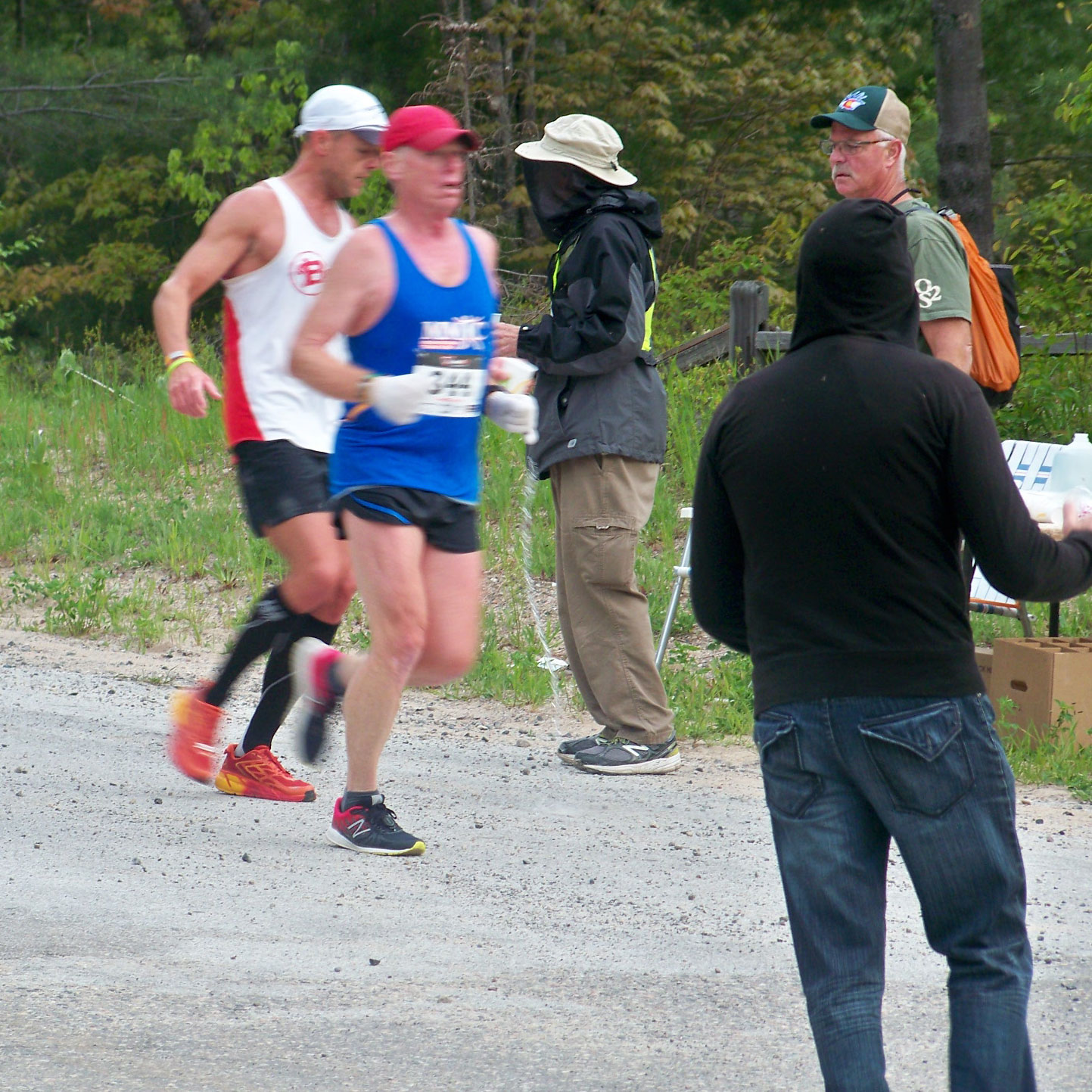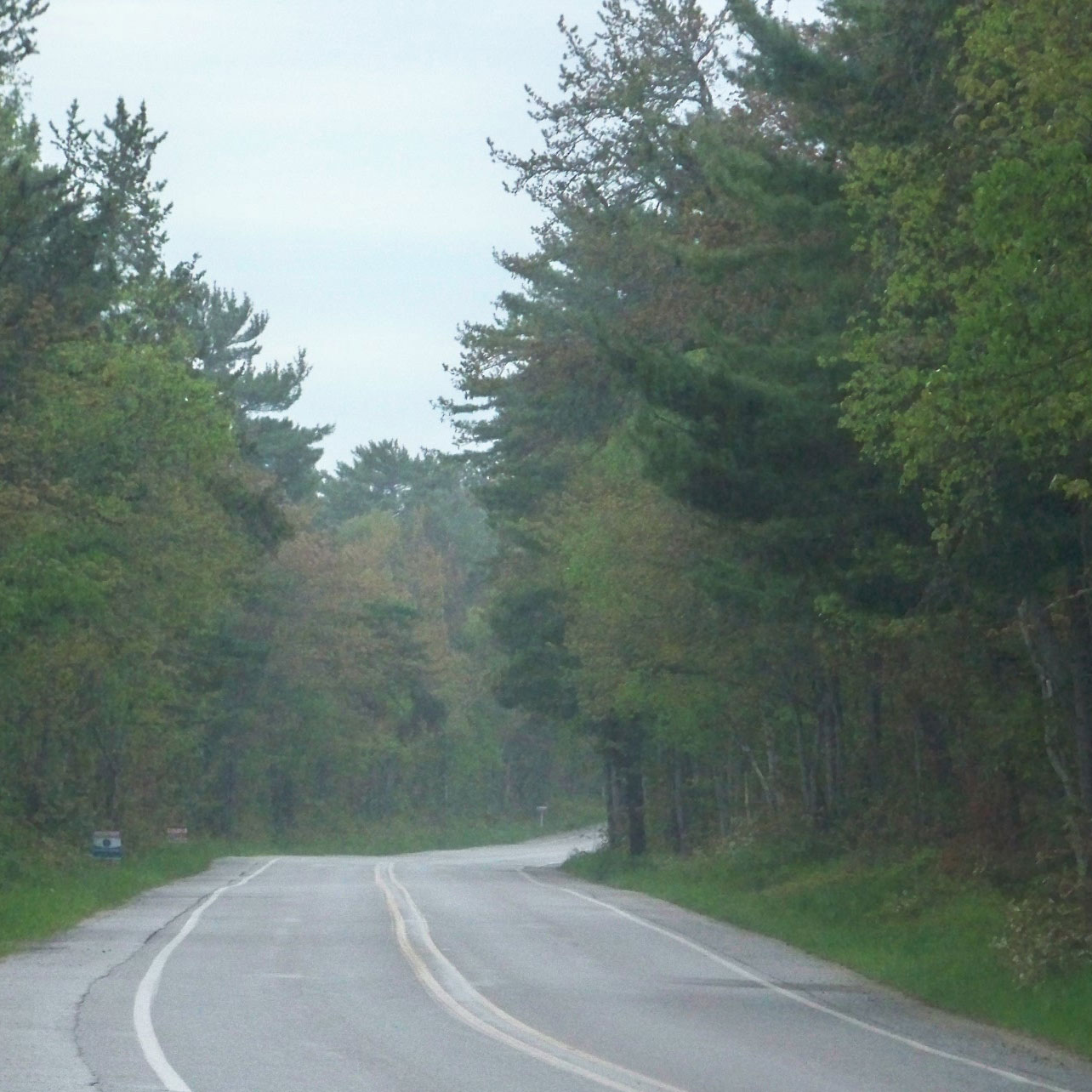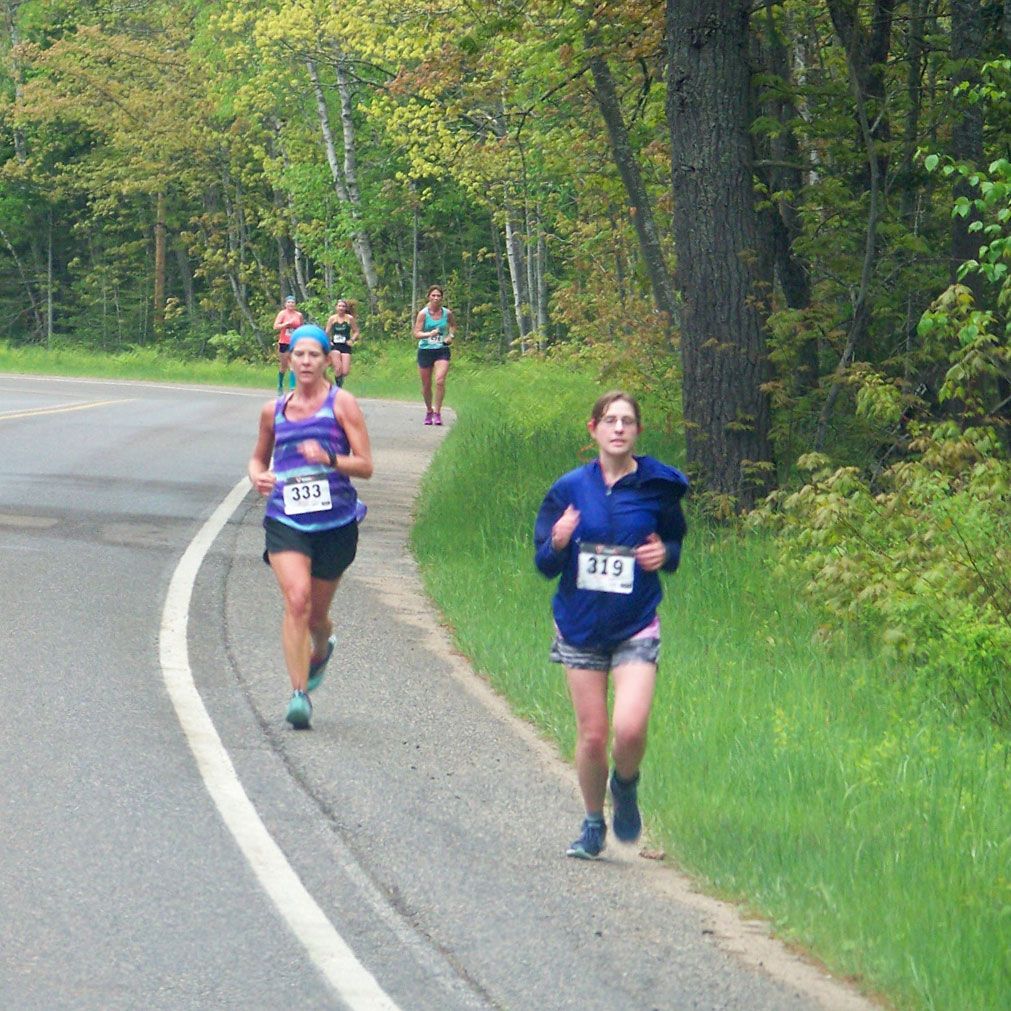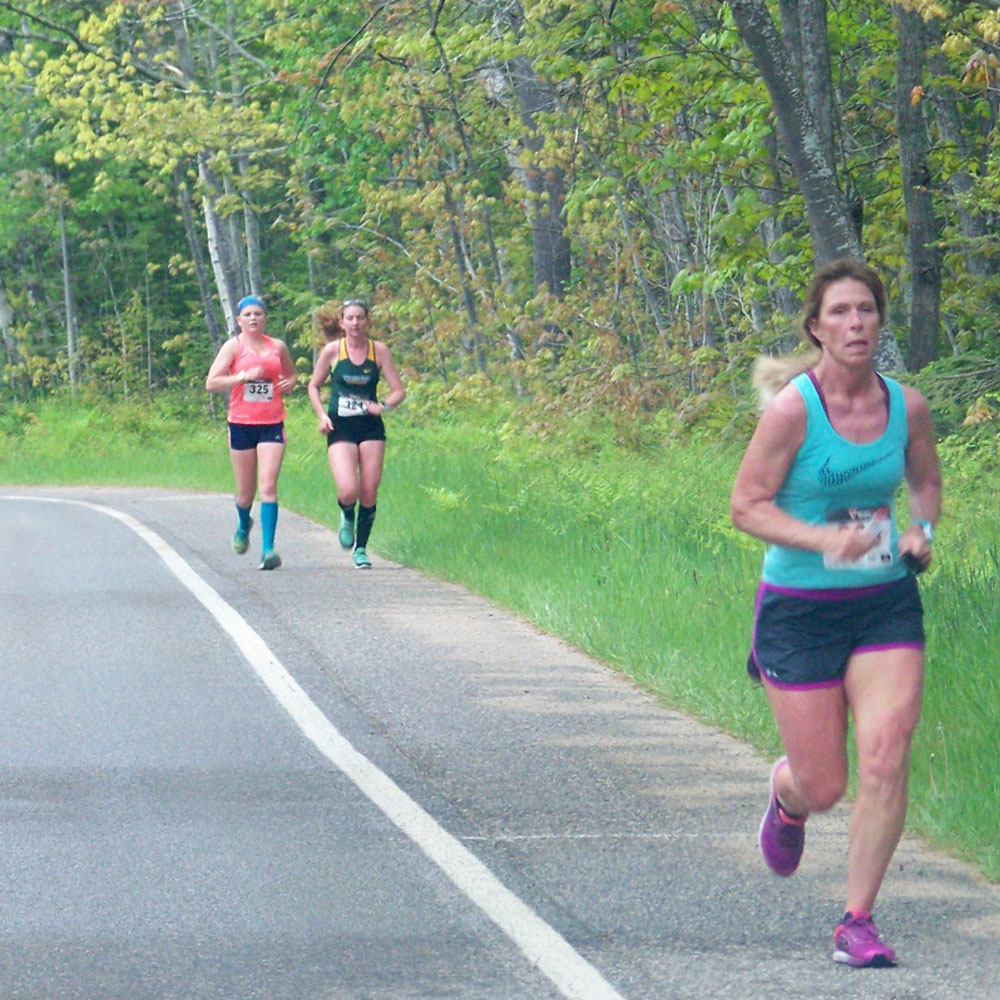 I have run 71 marathons and tons of other races of various distance from 5K to 103 miles, and your race stands out as perhaps my favorite (apart from Boston anyways). For what it is worth, from a hard core runner -- nice work, really nice work. Thank you for doing what you do.

John Klees
Grand Rapids, MI
RACE INFORMATION
Updated 06.26.2017

REGISTRATION
An Earlybird fee structure has been instituted as of 2017; registration opened on October 1. Registration cost is $40.00 through January 31, $50.00 through April 30, 2017 and then $60.00 thereafter. To take advantage of a $5.00 discount for UPRRC, 50 & DC Marathon Group, 50 States Marathon Club, or Marathon Maniacs Membership, print out and mail in your registration. Only one membership may be applied for the discount.
FRIDAY, June 9 PACKET PICKUP and LATE REGISTRATION
3:00 PM to 6:00 PM at the Whitefish Township Community Center, 7052 North M-123, Paradise, Michigan (1.3 miles south of the blinker light.).

4:00 PM - 7:00 PM PASTA MEAL New in 2017 is a WPM Pasta Meal specifically for WPM runners and their support team members. The Paradise area is a relatively remote location with good restaurants and we encourage you to support these fine establishments. But if you are interested in avoiding lines and want to carb up, then take advantage of the Pasta Meal ($9.00 for each adult and $6.00 for children 12 and Under). There is only one choice on the menu: All you can eat Pasta, Marina Sauce, Garlic Bread, Tossed Salad, Dessert and Beverage. Tickets are available for purchase on Active.com along with your registration or send a check with your ticket requests to PACC, PO 82, Paradise, MI 49768. We'll email you confirmation and include your tickets in your registration packet. The Pasta Meal is Friday night, June 9 from 4 - 7 PM. Packet pick up is from 3 - 6 PM. A limited number of meal tickets may be available at packet pick up. The Berry Patch Gifts, Bakery, &Restaurant will be open from 4 -7. Normally they close at 4 but want to encourage the WPM runners by offering this Pasta Meal. We hope to see you there.
SATURDAY, June 10 LATE PACKET PICKUP TIME
6:00 to 6:30 AM at Whitefish Township Community Center,, 7052 North M-123, Paradise, Michigan (1.3 miles south of the blinker light.).


START: 7:00 AM at Whitefish Township Emergency Services, across from Whitefish Township Community Center.
FINISH: At Whitefish Township Community Center.
NO RACE DAY REGISTRATION
T-shirts to All Registrants
Unique Lake Superior Rock Medallions to all Finishers Paradise is a unique area in North America. Geographically, Whitefish Point is a major bird migration corridor on the continent in Spring and Fall. Rockhounders explore Lake Superior's shore for agates and beautiful rocks for artistic creation and spiritual inclusion. The Whitefish Point Marathon committee selected the rock finisher medallions as a keepsake of this incredible region. In 2017, the committee expanded this concept of providing runners not only a feel for the region but also a taste. Cornish miners immigrated to Michigan's Upper Peninsula in the 1800's, they brought with them their beloved traditional dish: the pasty. The Yooper Pasty, an Upper Peninsula savory treat is being added to the post race refreshments.. Your pasty ( beef, pork, potatoes, carrots, onions, rutabaga, and salt & pepper, wrapped in a pie crust) including gravy or ketchup is of no additional cost to registered runners. Tickets for pasties for your support team may be purchased at packet pickup for $5.00 each. We look forward to your participation in the 2017 Whitefish Point Marathon and enjoyment of the PASTY eh?
Awards Ceremony 12:30 PM at Whitefish Township Community Center
Awards to first place Male and Female overall and first place in age groups 29 & Under, 30-39, 40-49, 50-59, 60-69, and 70 & Over
Custom Whitefish Point Marathon/BQ Mugs for runners attaining a Boston Marathon Qualifying time (BQ)
Medals to first time marathon finishers

NO REFUNDS OR TRANSFERS OF REGISTRATIONS